iOS devices compatible with Swimmingly mobile app and Android devices compatible with the Swimmingly Timer app
Given That
I am a swim meet volunteer
I Want to
See what devices are compatible for the following roles on the Swimmingly app: Starter, Scorekeeper, Timer, & Stroke & Turn Judge (or Head Referee)
Solution
See the supported devices for Swimmingly (iOS) and Swimmingly Timer (Android) below!
Swimmingly is cross-platform and can run iOS and Android devices within the same swim meet running the Starter, Scorekeeper, Timer(s), and Judge/Referee roles
Please ensure that you have downloaded Swimmingly version 9.x.x
Previous versions of Swimmingly from past years are not compatible with version 9.x.x (8.x.x etc).
If you have not updated your device to iOS 12-15, please do so first, then update your Swimmingly app to version 9.x.x
Swimmingly® v9 Mobile App (iOS)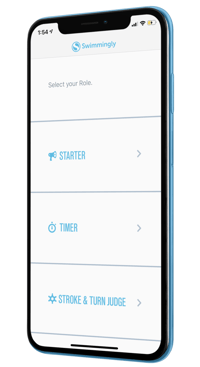 ---
iOS versions supported
iOS 12, 13, 14, & 15
We recommend being on the latest major version of iOS that your device supports.
---
STARTER
TIMER(S)
STROKE & TURN JUDGE (Head Referee)
The following devices support iOS 12-15 & are compatible with Swimmingly® version 9.x.x:
iPhone 13
iPhone 13 mini
iPhone 13 Pro
iPhone 13 Pro Max
iPhone 12
iPhone 12 mini
iPhone 12 Pro
iPhone 12 Pro Max
iPhone 11
iPhone 11 Pro
iPhone 11 Pro Max
iPhone Xs
iPhone Xs Max
iPhone Xr
iPhone X
iPhone 8
iPhone 8 Plus
iPhone 7
iPhone 7 Plus
iPhone 6s
iPhone 6s Plus
iPhone SE (1st generation)
iPhone SE (2nd generation)
iPhone SE (3rd generation)
iPod touch (7th generation)


iOS 12 only devices (note: Swimmingly version 9 will be the last version these devices will be supported)
iPhone 5s
iPod touch (6th generation)
---
SCOREKEEPER
Please note - any compatible iOS iPad is required to run the Scorekeeper role. The following iPads support iOS 12-15 & are compatible with Swimmingly® version 9.x.x:
iPad Pro 12.9-inch (5th generation)
iPad Pro 11-inch (3rd generation)
iPad Pro 12.9-inch (4th generation)
iPad Pro 11-inch (2nd generation)
iPad Pro 12.9-inch (3rd generation)
iPad Pro 11-inch (1st generation)
iPad Pro 12.9-inch (2nd generation)
iPad Pro 12.9-inch (1st generation)
iPad Pro 10.5-inch
iPad Pro 9.7-inch
iPad (9th generation)
iPad (8th generation)
iPad (7th generation)
iPad (6th generation)
iPad (5th generation)
iPad mini (6th generation)
iPad mini (5th generation)
iPad mini 4
iPad Air (5th generation)
iPad Air (4th generation)
iPad Air (3rd generation)
iOS 12
only
devices (note: Swimmingly version 9 will be the last version these devices will be supported.)
---
Swimmingly® Timer v9 Mobile App (Android)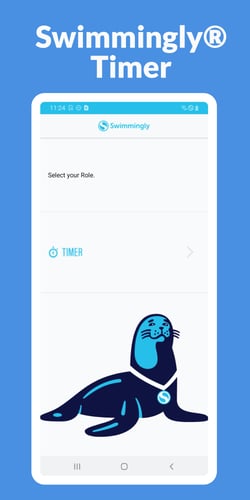 ---
Android versions supported
Android 6, 7, 8, 9, 10, 11, & 12 (latest version)
---
TIMER(S)
Any device that supports Android 6-12 is supported by Swimmingly Timer version 9.x.x and, due to the wide array of brands available, are too numerous to list. Please ensure compatibility when completing your Blueprint for Success (test your device on Swimmingly Timer!). We recommend most major brands and this list is not intended to be comprehensive:
Samsung
Huawei
Xiaomi
LG
HTC
Lenovo/Motorola