Club admins can click on Club Admins, click 'Invite Club Admins' to send new users an email invite!
Given That
I am a Club Admin
I Want To
Add other Club Admins to my club's account in the Clubhouse
Solution
Send an email invite to new Club Admins!
Step 1: Click on Club Admins in the blue Side Navigation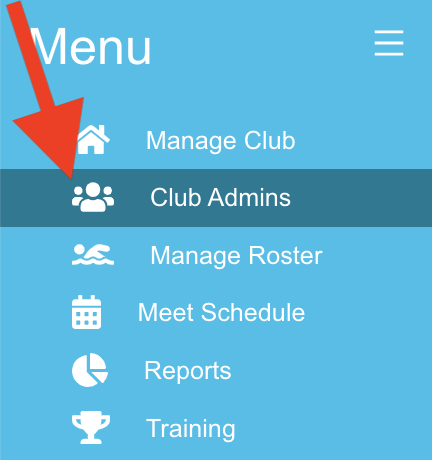 Step 2: Click 'Invite Club Admin'
An activation email will be sent to the recipient and they will share in Club Admin privileges for your club!
Note: If the user (email address) already exists in the Swimmingly Clubhouse, and they are on your team, you can either promote or demote that user depending on your permissions.
If the user already exists in the Swimmingly Clubhouse and they are not on your club, email team@swimmingly.app with a request for change of user and we will verify and complete the task!